ما هو الفحص الوراثي قبل الزرع للكشف عن اختلال الكروموسومات (PGT-A) ؟ 
يمثل اختبار PGT-A دراسة وراثية للجنين الذي تم إنتاجه خلال علاج التلقيح الصناعي لتحديد الاختلالات العددية للكروموسومات (تغيرات عدد الكروموسومات)
يحدد هذا الاختبار الأجنة الطبيعية كروموسومياً ويمكن أن يساعد في تحسين فرص حدوث حمل سليم وإنجاب طفل طبيعي يتمتع بصحة جيدة
يُجرى للأجنة قبل نقلها إلى بطانة الرحم
يزيد بشكل كبير من معدلات الحمل لكل عملية نقل
What is the procedure?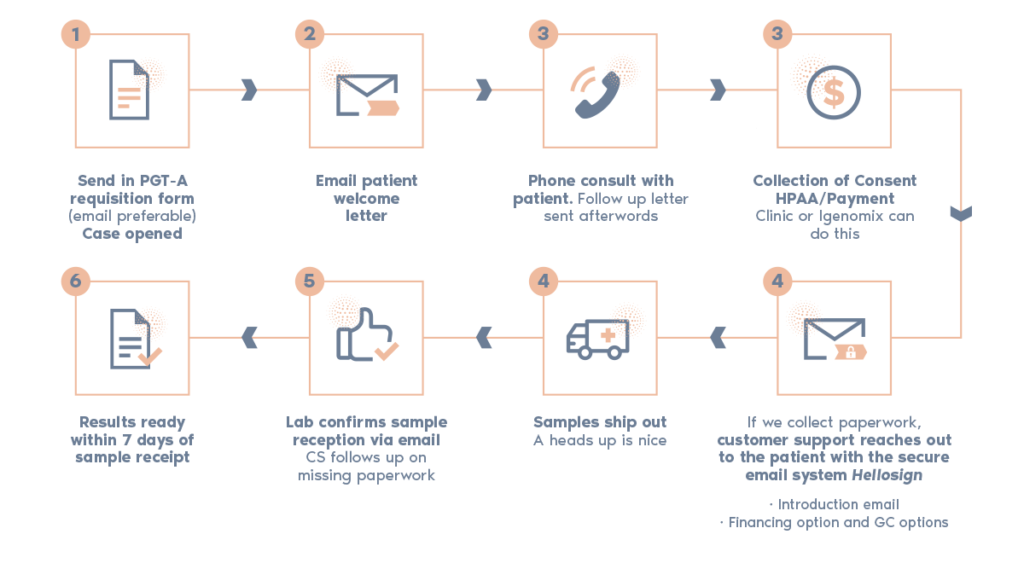 To meet the rigorous standards of our ISO 15189 accreditation, we must first validate embryologists who will be performing blastocyst biopsies. We will support you throughout this process and work with you to introduce PGT-A from Igenomix.
Once we have completed validation, we will provide you with kits for tubing embryo biopsy samples. Our laboratory and customer support team will work with you to ensure a smooth test request and collection process. We will then perform PGT-A in our accredited UK laboratory and release the report within 10 working days of receiving your samples. On average, this happens in 4 working days.
What diagnostic method is used in our PGT-A test?
By applying our unique Smart PGT-A technology, Igenomix is able to constantly refine and improve our ability to analyse embryo samples. We have have developed a proprietary Bioinformatic Calling algorithm based on over 100,000 embryo samples, which minimizes human errors and bias/subjectivity.